Frustrated Nature Face Waxes - £18.00
This unique extreme and every day weather protection product is a super way of keeping your face from feeling taut and dry due to the effects of the weather. Your skin is first line of defence for your immune system and you need to protect it. Frustrated Nature Face Wax provides you with that protection and also with essential nutrients your skin requires. Frustrated Nature Face Wax is a carefully balanced blend of natural waxes and oils that nourishes and smoothes your skin, giving you that shiny, youthful glow.
Application: Use your fingertips to rub over the set face wax in the pot, the warmth from your fingers will melt just the right amount for application to your face. Apply with your finger tips smoothing a small amount over your skin paying particular attention to your nose and cheeks. Only a small amount is used to provide this natural protection to your face.
Whether you're skiing in the Alps, walking your dog on the common or pottering in the garden this is a fantastic face protection wax.
Why not keep a pot warm on the radiator, window ledge or dash board if you would like it to stay in a more softened state.
Also why not try it on your elbows and heels.
You feed your roses
Your feed your lawn
Why not feed your skin?
All Frustrated Nature Face Waxes have a bees wax base
Face Wax Blends available:
Macadamia Nut & Apricot Kernel Face Wax
Macadamia Nut, Apricot Kernel and Rose Essential Oil Face Wax
Macadamia Nut & Sweet Almond Nut oil Face Wax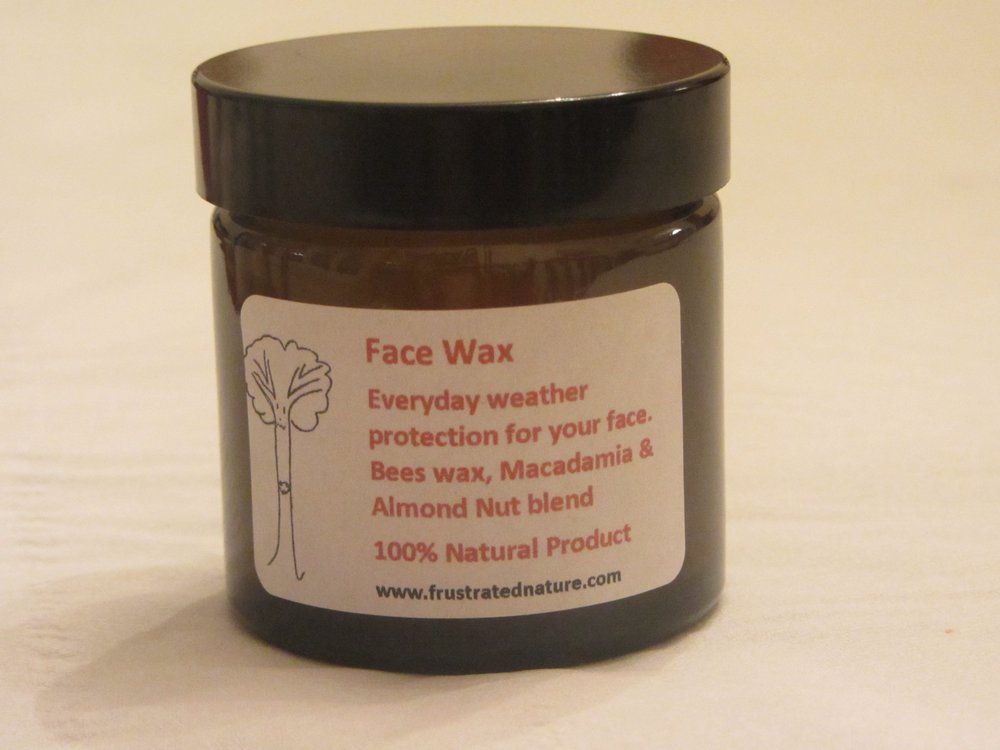 Frustrated Nature - your body will love you for it.